Are you making effective use of your office space?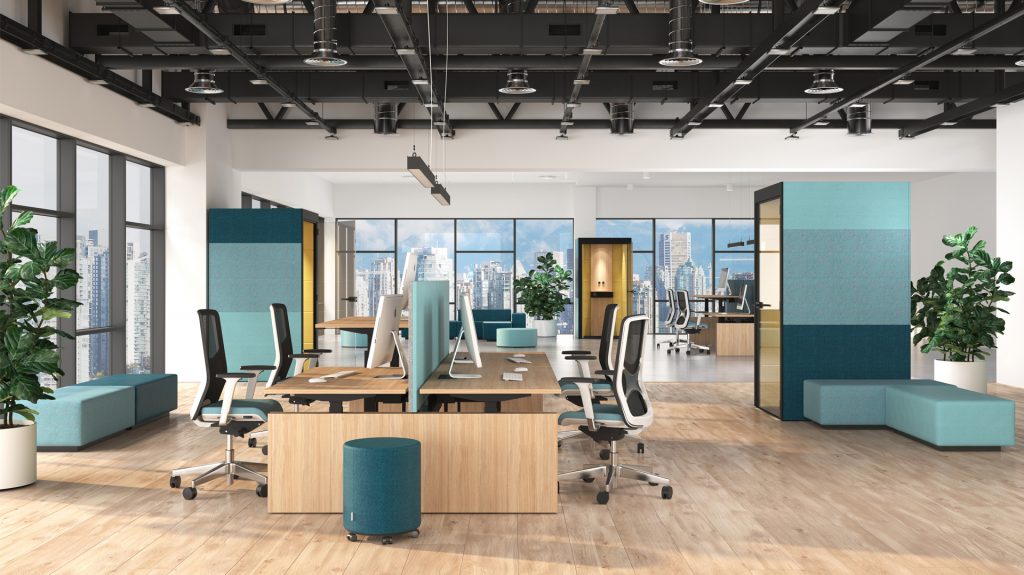 Rising premises maintenance and utility service costs are leading many businesses to actively review their office space requirements.  Alongside looking to reduce running costs is the need to ensure that the business' office space is developed and improved to provide an environment that staff and clients – and the business as a whole – can thrive in.
Evolving working patterns – hybrid working, flexible working hours, remote working – all provide their own challenges and opportunities with the aim of increasing productivity. How do you ensure your office is meeting the needs of your workforce and providing a central hub that supports the day-to-day activities of your business?
Our suggestions to help create an effective office space
Space planning and office layout
Carry out an office space-planning exercise to check you are making best use of all your office, canteen and breakout spaces.
You may find that your team could become more focussed and efficient just simply by adjusting the seating plan, or by upgrading the office furniture and seating, or you might need to move walls and redesign the office from scratch. A lot of modern businesses will have an open office layout as well as a conference room and space dedicated to employees where they can rest and socialise on their breaks.
Do you want natural light? Is there a place where employees can store their personal items? There are a number of factors that most offices will take into consideration when planning their office layout to maximise productivity and employee wellbeing.
What size office do you need?
Space-planning can help you identify opportunities to reduce the office footprint required for your business whilst retaining an efficient working environment. This could provide sub-let opportunities or reduce tenancy overhead costs.
Another thing to consider is the actual layout of the office when looking at an office size and how much space your business needs. For example, an open space plan may be beneficial for employees well being and general movement however it may also mean increasing the size of the office space which could be costly. This is something that would need to be balanced out to ensure for a positive work environment.
Keep in mind that any changes should be seen by your team as an improvement in the work environment and working conditions to boost staff morale. This is a great opportunity to create a win-win situation all round if carried out with care and forethought.  
Is your workforce going 'remote'?
You may only need a small central hub for occasional team meetings, client appointments or as a base for teleconference calls.
This may mean that rather than a conventional office layout you need an open meeting area or break-out space along with private meeting rooms, conference rooms and soundproof spaces for phone calls and Zoom meetings . . . along with a comfortable relaxation zone and a good coffee machine!
Involve the team
It's usually a good idea to ask staff for ideas and suggestions on how the office environment could be improved.
Involving the team in any major changes keeps everyone feeling included and valued, and might just happen to highlight some key improvements for your team that could otherwise have been overlooked.
Staff welfare
Consider including welfare features such as an in-house gym, a state-of-the-art kitchen where food can be prepared and eaten, or providing free healthy drinks, fruit and snacks.
What is important to your team? What will inspire and motivate? What will help recruit and retain the best team players in your industry?
Do you need help making effective use of your office space?
If you would like help with making effective use of your office space Office Options offers free advice and can work with you and your team to develop a scheme that is right for you. Get in touch with the team today to find out more!
We produce scaled floorplans and 3D renders that enable you to visualise the proposed changes before you commit to the cost of implementing them, and we can take care of the project work for you from initial design to final delivery – just give us a call or drop us a line: we're looking forward to working with you!