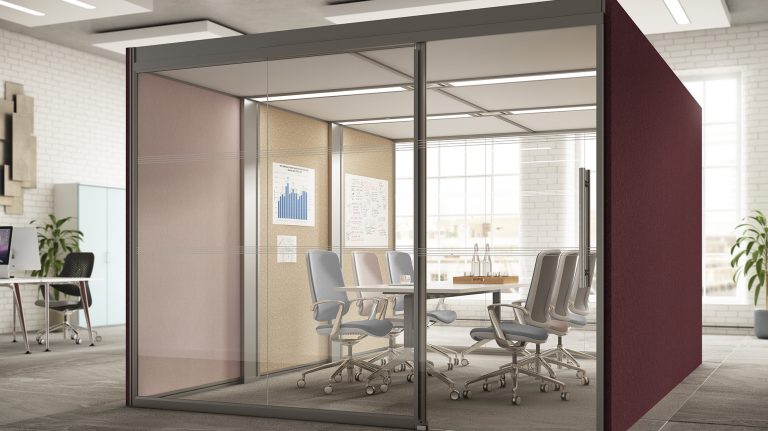 As part of our refurbishment and fit-out packages, we supply and install all types of internal partition walls, from solid drywall stud partitions to full height glass walls, moving walls and acoustic panel partitions.
Glass Walls
Glass walls are commonly either 'frameless', which are near-continuous walls of glass with either flush glass or contrasting solid door options, or demountable, where glass panels (and solid sections if required) are mounted in an aluminium or timber track.
Black framed and barred 'Crittal' style partitioning is a very popular partition option that gives a modern industrial edge to the office environment.
Glass walls can be single or double glazed, offering different levels of acoustic performance, and double glazed walls can be supplied with integral privacy blinds. We also supply and install fire-rated glass partitioning where required to meet Building Control regulations.
Custom Window Manifestation
We can apply customised window manifestation (frosting) and full-colour or obscuring window film to doors and windows to enhance corporate branding or provide privacy where required. Glass manifestation is also useful in preventing potential accidents, as large stretches of glass can sometimes become hard to see. Adding window manifestation to the glass makes it easier to spot.
Moving Walls
Moving walls provide flexibility for meeting spaces and other work areas. We can offer these to almost any specification, in any finish to suit the location. An excellent option for agile multi-use environments, allowing you to alternate between large or small spaces depending on the requirement.
Acoustic Panel Partition
Acoustic panel partitions and screens are increasing in popularity both as an attractive means of defining work zones, and as an acoustic solution to reduce sound bounce in an open plan area. A portable, sound reducing partition can give added privacy, and reduce disruption between office spaces.
FREE initial consultation, design proposal & quotation
Get in Touch