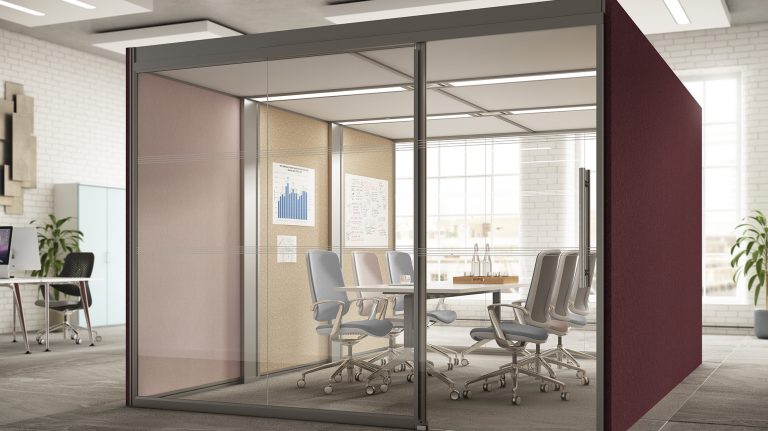 Coming up with a stylish way to create individual spaces in your open-plan office is easier than you may think. Office partitioning systems come in all shapes and sizes and can help you create interesting, functional spaces that provide the flexibility you need for your team.
As part of our refurbishment and fit-out packages, Office Options supplies and installs a range of styles from solid drywall stud partitions to glass office partitioning, moving walls, and acoustic panels. So, if you need to incorporate some individual spaces into your new office design, we can help.
Do You Have An Office Space That Needs to be Partitioned or Divided?
Open-plan working is great for inspiring creativity and team building. But sometimes there's a need for some privacy to have a meeting or a quiet space to work. Modern office partitioning systems give you the flexibility to create different types of workspaces within your open-plan design. Whether you are looking for something permanent or a moveable screen that gives you the flexibility to use it as and when required, we can help you find the solution that creates the space you need.
How Can We Partition Your Office Space?
Office Options provide bespoke designs that incorporate office partitioning walls to give you the flexibility your team needs to be productive. Modern partition solutions can help you to create whatever type of space you need, whether that is a combination of open-plan working areas or more private workstations, or the ability to alternate flexibly between the two.
With so many designs to choose from, we'll help you create a working environment that reflects your brand's style as well as being practical and functional, giving you the types of spaces your business needs to flourish.
Here are some of the options:
Glass Wall Office Partitioning
Glass walls can create a usable, light, private space that can be an enclosed office within your open-plan space or a flexible way to define areas whilst still giving the feel of openness. Glass partitioning for offices are either 'frameless', which are near-continuous walls of glass with either flush or contrasting solid door options, or demountable, where glass panels (and solid sections if required) are mounted in an aluminium or timber track. Frameless glass partitions are particularly popular for create a mini office space which can be used for small meetings or external calls.
Black framed and barred 'Crittal' style partitioning is a very popular option for glass partitions that give a modern industrial edge to your space.
Glass office partitions and walls can be single or double-glazed, offering different levels of acoustic performance, depending on your needs for the space. If you need more privacy, double-glazed partitions can be fitted with integral privacy blinds. If you are looking to use glass screens or walls in common areas, staircases, and along escape routes, we can supply fire-rated glass partitions that meet building control regulations.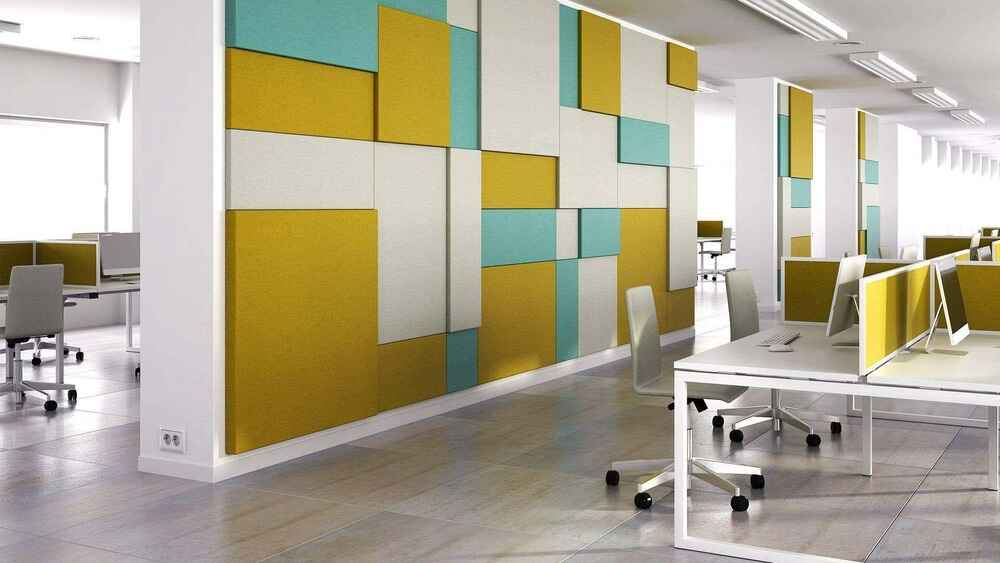 Custom Window Manifestation
If your existing fixtures and fittings need an extra layer of privacy or safety, we provide practical solutions such as customised window manifestation or frosting and full colour or obscuring window films to glass doors and windows.
Not only do these options provide a practical solution to make sure everyone is aware the partitioning is glass, or to provide discreet privacy, but they can also enhance corporate branding.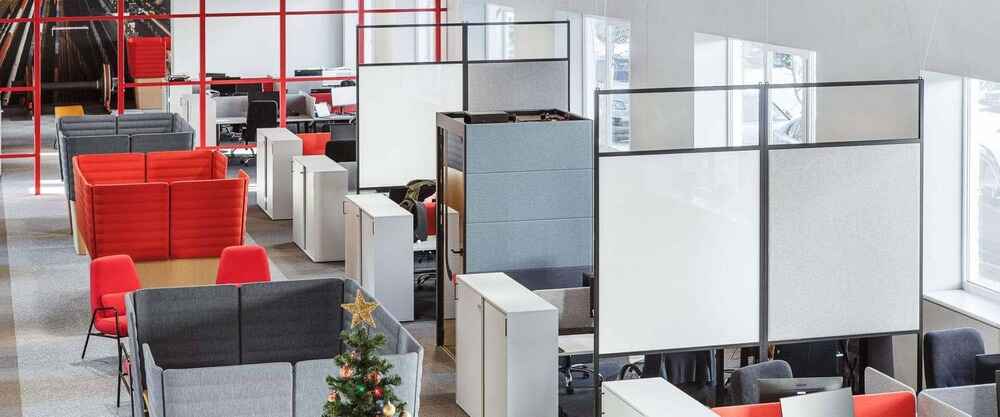 Moving or retractable walls provide flexible office partitioning for meeting spaces and other work areas. They can be made to almost any specification and finish to create a solution that enhances your office design, providing you with the flexibility to create an agile environment. They are perfect for spaces that need to work hard for your business and allow you to alternate between large or small spaces depending on what you need the space for at any given time.
Acoustic Panel Partitions
Acoustic panel partitions and screens are increasing in popularity both as a stylish way of defining work zones, and as an acoustic solution to reduce sound bounce in an open-plan area. A portable, sound-reducing office partitioning system, acoustic panels can give added privacy, and reduce disruption between office spaces.
They can also be an eco-friendly option that will help you create a sustainable workplace. The new PET felt screens are made from recycled plastic making them a creative and environmentally friendly solution.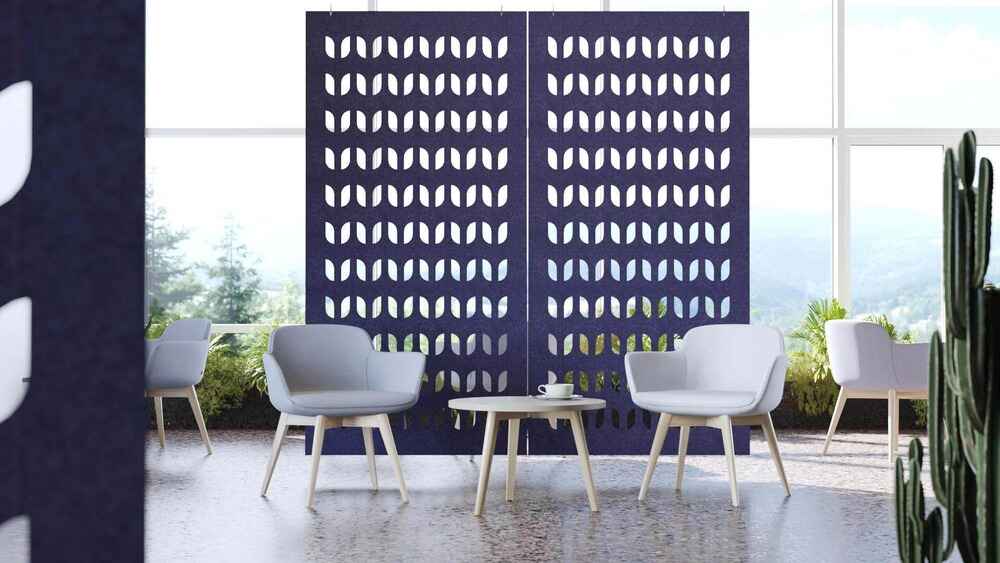 Office Screen Partitions & Silent Rooms
Office partitioning has become increasingly popular since the pandemic to create social distancing and protection. However, whilst the pandemic has increased its popularity, partitions have been a practical and flexible solution to segregate office spaces for many years.
Compared with most other office partitioning systems, screens are a cost-effective way to split a large open-plan office. They can be used to create individual areas, silent rooms, meeting pods, and phone booths, providing your team with the flexibility they need to carry out different types of work effectively within an open-plan office space.
Partitions are a completely flexible and relocatable solution that can be moved or removed as the needs of your business evolve. The options really are endless. If you'd like to find out how Office Options can help you to create a flexible workspace that grows with your business, book a free initial consultation.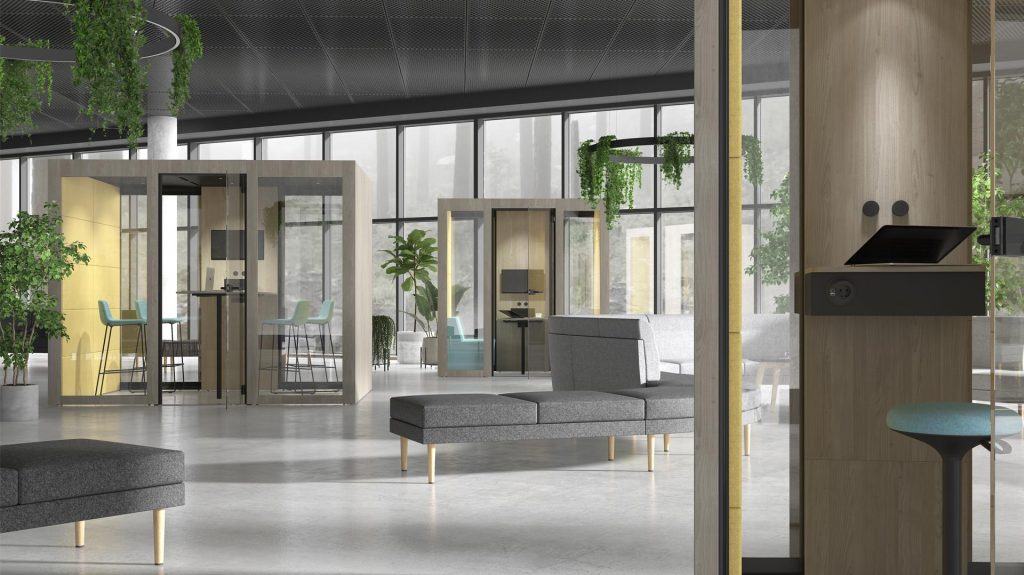 FREE initial consultation, design proposal & quotation
Get in Touch