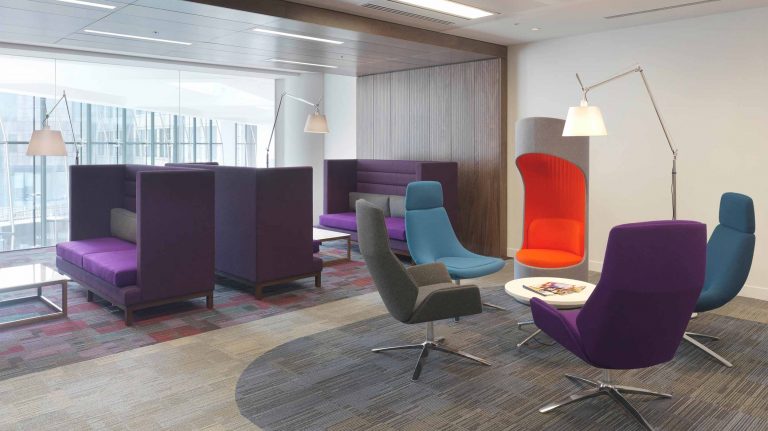 There are many challenges to an office refurbishment project, but our longstanding experience means we have come across most of them. We have the experience, techniques and suggestions that will help to make your project efficient, stress-free and ultimately very effective.
Do you face any of the following challenges?
How best to make effective use of the available space?
How can I reduce the office footprint area and also improve business efficiency?
What spaces and furnishings are best suited to assist evolving hybrid working patterns?
How can I create an exciting and flexible workspace that will help to attract and engage staff and clients?
How to manage the upheaval of an office refurbishment with minimal disruption to office-based staff?
Do I need Building Control approval for the works I am considering?
Who can I ask to help with initial planning and design to ensure that all the important details are considered and budgeted for?
How can I ensure a cost-effective project within budget and to schedule?
Complete Workplace Design Consultancy
Office Options has years of experience in resolving issues from the initial concept planning to the final project handover.
We provide a complete workplace design consultancy and project management service to ensure that your project runs on time and to an approved schedule. Our Project Managers are trained to ensure they minimise disruption to your business and to provide you with the benefit of a single point of contact for all aspects of your office refurbishment project.
Initial Concept
We will guide you through the initial concept, budget and design stages, including any necessary Building Control approval, as well as manage the construction and furniture installation teams. We take care of the challenges and distractions, and provide you with a fixed project cost, agreed in advance.
Our Services
We have vast experience in all areas of office fit-out and refurbishments, including:
Installing partitioning & glass walls
Suspended ceilings
Joinery
Decorating
Floorcoverings,
Mechanical & electrical services
Plumbing, heating, ventilation and air conditioning services
Toilet & washroom installations
Kitchen installations
H&S management, Building Regulations approval applications
Window blinds installation, window frosting & manifestation
Storage wall installation
Bespoke receptions and furniture design and installation
We look forward to taking care of your project on your behalf.
To find out more about Office Refurbishments, read our Office Refurbishment blogs:
Some of our 3D interior designs
FREE initial consultation, design proposal & quotation
Get in Touch