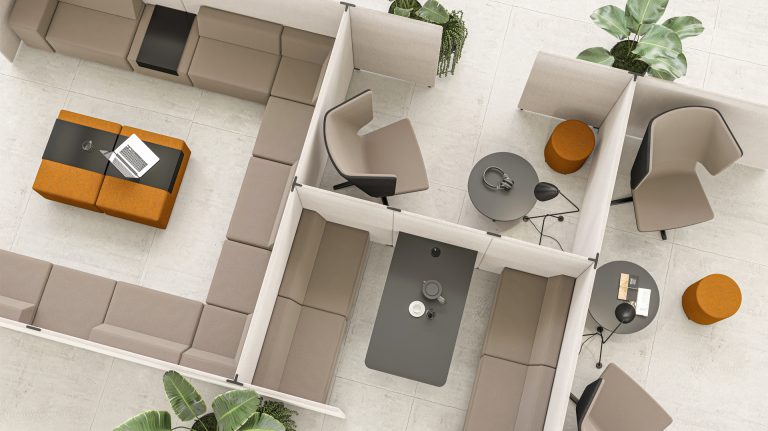 Our workspace consultancy Our workspace consultancy approach includes a comprehensive 'design, develop and deliver' strategy to ensure your new offices have the inbuilt flexibility to evolve with your business in a changing work environment. We will help you make effective use of your office space, as well as work with you to identify the best set up and furnishings for your business that compliment your office and working style. Hybrid working has increased in popularity, so our office plans aim to assist with this working pattern to keep your staff engaged. We will ensure that all the important details are considered, planned and budgeted for, resulting in a smooth running project.  
Important Questions To Consider When Looking At An Office Redesign
How can I create an exciting and flexible workspace that will help to attract and engage staff and clients?
How to manage the upheaval of an office refurbishment with minimal disruption to office-based staff?
Do I need Building Control approval for the works I am considering?
Who can I ask to help with initial planning and design to ensure that all the important details are considered and budgeted for?
How can I ensure a cost-effective project within budget and to schedule?
What Do We Mean By Office Space, Planning & Design?
Office space, planning and design is the process before an office refit or refurbishment that allows for the consideration and planning of your new office space. Through our workplace consultancy and project management service, we aim to achieve the most productive and welcoming space for your staff and visitors to your business.
Office Space
When it comes to planning your new office space we will work out how best to maximise and make the most effective use of the space you have, however big or small. Our project planners will work with you to design a layout and a space that reduces the office footprint to improve efficiency, whilst still allowing for an engaging and inviting space from which people will work.
Planning the office space correctly is essential to the overall design process, as it will form the framework for the next steps in office planning. The goal is to create an office space that encourages productive, efficient and personal work whilst still allowing room for flexibility and creativity. Office Options will assist you in developing the best office space to suit your needs.
Office Planning
Creating a plan for your office space and design is essential for a successful office project, as it allows you to consider numerous aspects of office life and how it will function on a day to day basis. The benefits of planning your office include increased efficiency, the best use of floor space for reduced and natural movement and flow of people through the office, and consideration of how any office equipment can be factored in. If you have a bigger team, it also allows you to consider how staff supervision will work, as well as health and safety factors.
Office Design
The design of your office is vital for creating a welcoming space that employees want to work in, and for customers or clients to have a positive experience when visiting. Your staff will spend a lot of time in the office space, so it is important to ensure that it is appealing, comfortable and allows them to perform their role seamlessly. Some of the key factors to consider here are lighting, appearance, functionality and flexibility. We will work alongside you to create an office design that ticks all of these boxes.
Our Approach To Designing An Office Layout
The Office Options team have extensive experience in designing office layouts, and we will guide you through the process from the initial concept and design stages, to the finishing touches in order that we deliver an experience that will be successful and to budget. We will take care of any challenges and problems, making the process as seamless and stress free as possible for you and your business.
Agile & Hybrid Working
As many companies turn to agile and hybrid working patterns, staff in some businesses are only occasionally spending time in the office, or using it primarily as a meeting point. The office space and layout needs to be capable of easily adapting to changing circumstances, and provide an effective support base for the team and for customers.
Operating an agile and open office space will encourage collaboration when people are in the office, and encourage communications and connections across the team. If staff are likely to come in on days they have meetings, ensure that there are break out spaces where these can occur.
Interior Design & Furnishing
We work with you to develop and realise your goals and objectives for your office space. We will help maintain and improve team communication channels, and enhance team work areas within your organisation via outstanding interior design and furnishing.
Our design team provides CAD floor plans and 3D renders, mood boards, furniture samples and swatches. We take a systematic approach including presentations to your Decision Making team as an integral part of our service. The end result will be an office space that you and your team are proud of, that benefits your business and your customers.
Fit-Out & Refurbishment Projects
For fit-out and refurbishment projects we take care of Building Control submissions, Health & Safety compliance, and coordination of any specialist contractors. Projects are managed throughout by a dedicated Project Manager to maintain compliance, and to ensure that budgets are adhered to and deadlines are met.
For information on Office Planning and Design, check out our office design blogs:
Some of our 3D interior designs
FREE initial consultation, design proposal & quotation
Get in Touch