Full office fit-out of a redundant warehouse to a useable office space
The design stage included creating 3D floorplan visualisations of the proposed project, and the fit-out involved constructing an office area in an open high-roofed void from scratch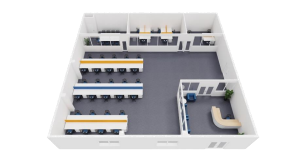 Fit-out works included a new insulated suspended ceiling, air conditioning, insulated partitioning, full electrical and data installation, joinery works, flooring and furniture installation and many other details.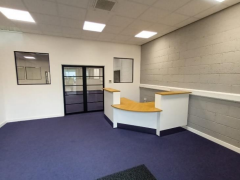 As the client wanted as much natural light as possible in the space we installed new windows to the front perimeter and Perspex ceiling tiles to allow light to filter through from the roof void . . . and to back up the natural lighting we fitted 600×600 warm white LED panels throughout.
During the project the client also asked us to convert an unused boardroom into staff toilets, this included new plumbing works internally and externally, cladding, IPS panelling, cubicles, hand dryers, vanity unit, new radiators, and commercial toilet flooring.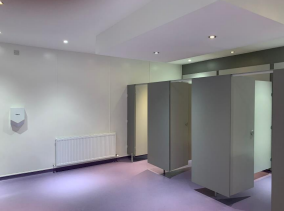 FREE initial consultation, design proposal & quotation
Get in Touch