Axia – the ergonomic chair solution!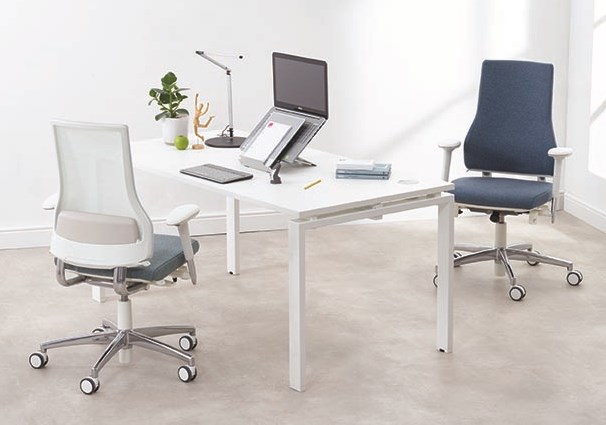 The Axia ergonomic chair is known for its award-winning design which supports you correctly to achieve a healthy and relaxed posture at work.
fixed seat and back angle provides lower back support and keeps the pelvis in a natural position
synchronised split seat mechanism ensures only the back of the seat tilts – the front of the seat will always stay horizontal – relieving pressure on the legs and keeping the feet on the floor
tension control ensures each user can adjust the balance of the chair to suit their body weight
arm rests don't move when the chair tilts and will always line up with the front of the desk ensuring maximum arm support
10 year warranty
An additional independent back angle adjustment lever is available and many extra features can be specified such as memory foam, pump up lumbar support or a headrest to create a chair that is truly unique to the user!
As even the most ergonomic chair will not help problems relating to poor posture unless it is set up and used correctly, Axia Smart technology is available as an optional extra, this monitors sitting habits and provides feedback to ensure the user is working in a healthy position, it also features a vibration to indicate when the user has been sitting incorrectly for too long.  This stimulates greater awareness leading to improved posture and healthier working habits.
Call Office Options today for a chair trial on 0800 342 3179!