Why Should You Put Partitions In Your Office?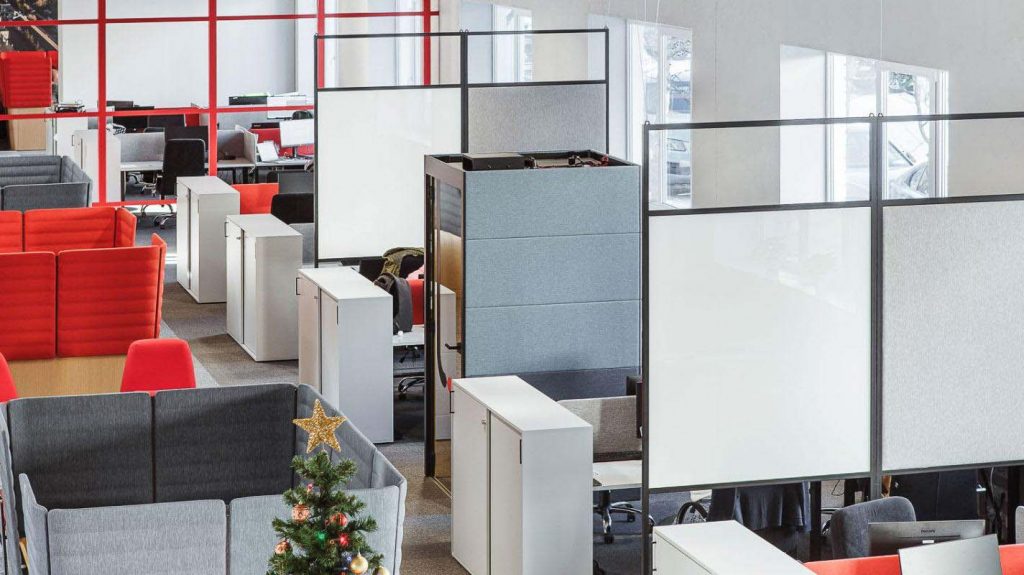 With working environments and models constantly changing and involving, providing an efficient and welcoming office space for your team can be a challenge. One way to create an effective and flexible workspace is by introducing partitions to your office.
What are Partitions?
Partitions are designed to create distinct areas within a space without the need for permanent, traditional walls. It is important to clarify that there are a number of types of office partitions. Often the assumption can be a transportable foldable board or barrier that can be placed in the middle of a room, but partitions are simply physical barriers used to separate different areas within a room or office and can take several forms. They can include full-height glass walls, steel cube storage & planter displays, moving walls and acoustic panel partitions. The use of glass office screens and partitions has become increasingly popular in office spaces as a way to offer private and focused workspaces within an office layout, whilst also allowing for flexibility and collaboration.
Benefits Of Glass Partitions In Your Office Space
Here are some reasons why putting a partition in your office is a good idea.
Privacy
Privacy is a critical aspect of the workplace and partitions offer a simple solution to this. If your office is open-planned, installing a partition can help to ensure that confidential conversations are not overhead and sensitive information can be shared. Not only this but by partitioning the space, employees are able to focus on their work or take important phone calls without being distracted by others.
Quiet zones
Whilst it is of course important to encourage socialising and collaborative working in an office space, it is equally important to provide space for people who need a quieter working environment. Glass Office Partitions are a simple way to provide personal space for your staff, as well as communicating the presence of a clearly designated quiet space.
Customisable
As mentioned above, office partitions are available in a variety of formats and styles, meaning the cohesiveness of your office style does not need to be compromised when introducing partitions to the space. Customised window manifestation and full-colour or obscuring window film can also be applied to enhance corporate branding or provide privacy where required. They are allow for natural light to spread through an open plan office design which can help reduce office energy costs.
Increased Collaboration
While partitions are known for creating private spaces, they can also be designed to foster collaboration. For example, glass partition walls and tall steel cube storage displays can be installed to create meeting rooms or collaborative workspaces to provide an opportunity for employees to interact and share ideas. By using partitions and office dividers in this way, you can encourage a transparent and open floor space environment for your staff.
Cost-effective
Finally, the installation of glass or modular partitioning can often be more cost-effective than building permanent walls or carrying out a complete office refurbishment. Installing partitions is a quick process and also allows for more flexibility in the workspace. Introducing moving or retractable walls to the office can allow you to alternate between large or small spaces depending on the requirements and are an excellent option for agile multi-use environments.
Specialists in Office Partition Systems
At Office Options, we have the experience and expertise necessary to create unique interior spaces for our clients. If you are considering adding partitions to your space, get in touch with our team who can talk you through the many options we can offer.